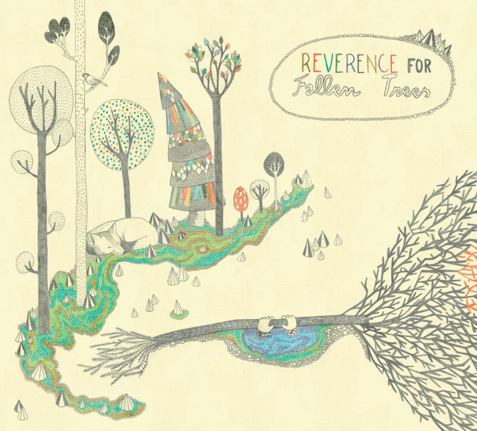 Reverence for Fallen Trees
is a meditation on the fragile nature of life. Singer and songwriter Geert van der Velde infuses his recent loss of three grand-parents into these aching songs with soaring vocals. His harmonies with Kim Janssen are pretty and sorrowful laments that amplify the feeling of loss with their dream like nature. Aided by friends in Brooklyn based band Antlers as well as Spanish Prisoners the overall sound is rich and full without wall to wall instrumentation. This album was made as a part of the
In A Cabin With
series of recordings that take Dutch musicians to locales around the world to record with local musicians. The three band members wound up recoding
Reverence
in a cabin in the Adirondack mountains of New York. The isolation of that area coupled with the idea of expressing loss through song makes this album a poignant statement about losing loved ones.
Dandelion
There's a nice flow to the songs on this album. It is made to be listened to as an album, not separate songs. Whenever I listen to one song on
Reverence For Fallen Trees
I listen to them all. This is a sure sign of a great album. Had I found this album a couple of months earlier it would have made my 2009 Most Listened to list. It will definitely make this year's list.
The Black Atlantic's
Reverence For Fallen Trees is most admirable because it is exactly what good music should be. It should speak from the heart.This does so in a beautifully sweet and aching way. It should be accessible to all. Their album is posted numerous places online for FREE by Geeert and the band. Check their site out to
download this for free or donate
some money to them. So far there have been 60,000 downloads in less than a year of this album. And it should be a community effort. They attained this in a global way combining members of Dutch and American bands. As a rabid music fan I am thankful that bands like The Black Atlantic understand the true nature of music as an art for all to behold. The buzz on their album online is deservedly at a high point. If you are in the booking business or know someone who is, The Black Atlantic are coming to the states in March and looking to play dates. Contact them please if you have any other info on possible shows. They did their part by making this great album and giving it to us free. The least we can do is welcome them with open arms when they get here!